A VISION FOR GROWTH
Haiphong holds a special importance in the socio-economic development of Vietnam and its Northern region. It is an important port city, the industrial center, the largest seaport in the North of Vietnam, and also an economic, cultural, medical, educational, scientific, commercial and technological center in the Northern coastal region. Haiphong's recent exceptional momentum of development is attributed to the complete infrastructure upgrade, numerous tax incentives and strong governmental support.
AT A GLANCE




100 KM NORTHEAST OF HANOI

+770 PROJECTS OF 18.7 BILLION USD CAPITAL
HAIPHONG - ONE OF THE BEST ECONOMIC PERFORMERS
Home to 2 million inhabitants, Haiphong is the third largest city in Vietnam, after Ho Chi Minh City and Hanoi. The city's rapid urbanization has underpinned its exceptional growth over the past five years. The central government has shown its commitment to continue Haiphong's exponential growth by offering numerous special tax incentives, which has paved the way for it to become a foreign investment magnet, as streams of FDI pour its way into the city's economy.
HAIPHONG AND QUANG NINH ARE THE FASTEST-GROWING CITIES
OVER THE PAST THREE YEARS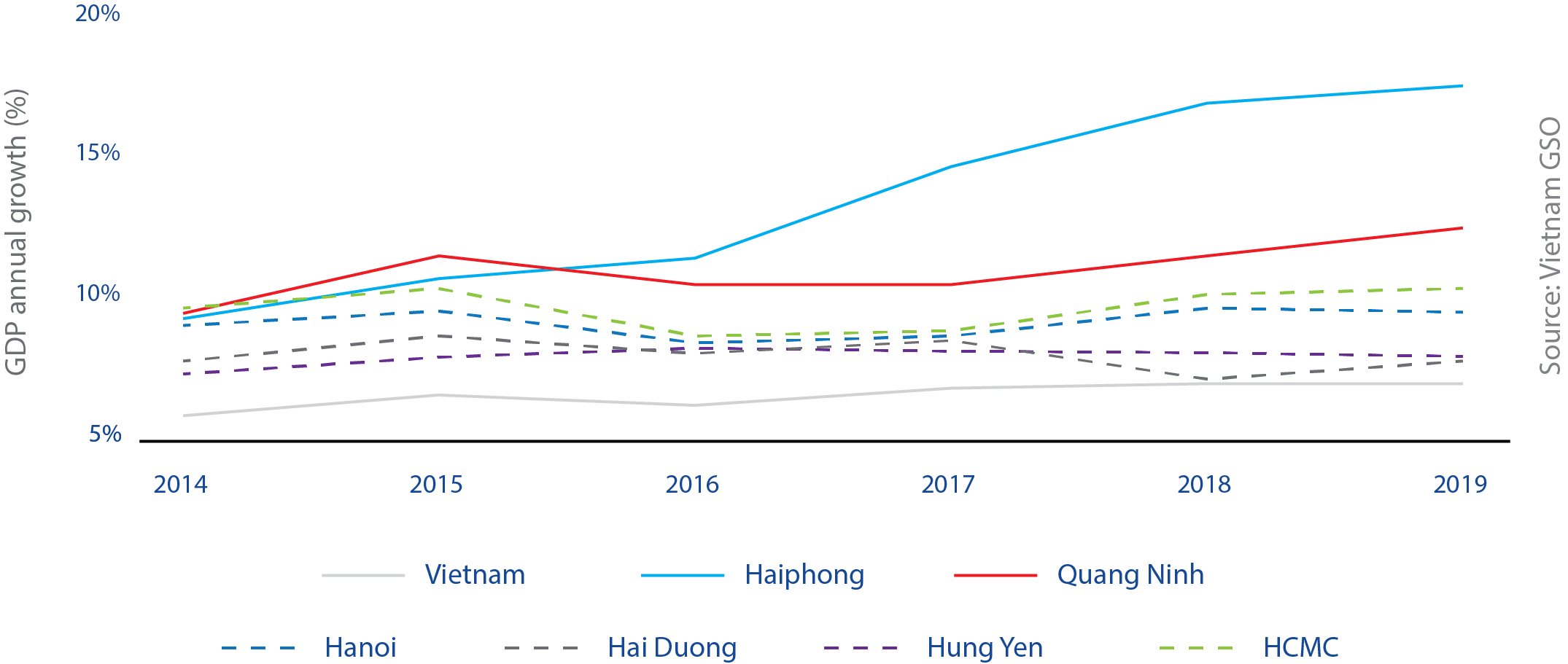 HAIPHONG INFRASTRUCTURE DEVELOPMENT
In recent years, Haiphong's infrastructure and transportation network has undergone a major breakthrough through the completion of key mega projects involving intermodal transport (seaway, airway, road, waterway, and railway). Hanoi - Haiphong expressway, Haiphong – Ha Long – China border expressway, Tan Vu – Lach Huyen bridge, Lach Huyen deep sea port have been game-changers in attracting foreign direct investment and spurring economic growth in both Haiphong and the northern region.
Combined with strategic location, Haiphong has become the focal point of infrastructure development and the trading centre of Northern Việt Nam with China, South East Asia and global markets. The city is logistically located to play a key role. Not only will it facilitate a fast and smooth movement of goods manufactured in the region, it is also the closest port for the south west of China.
EXPLORE
HAIPHONG - A VIBRANT CITY
Haiphong has transformed itself in many ways in such a short period of time. Now that it is an industrial and seaport center, it aims higher to become a lively and modern city that attracts people to live, work, learn and invest.
Since more and more companies are moving to Vietnam every year, more expats are coming to Haiphong. Through continued improvements in accommodation and public spaces provision, entertainment facilities, education and health system, Haiphong is well on the way to shaping unique living experience for its citizens.
RESEARCH
This research "Haiphong – A vision for growth" is conducted by JLL to shine the spotlight on Vietnam as the production hub of Southeast Asia and display how the enormous competence of the northern port city of Haiphong can be of great help to investors who desire to seize the opportunities in the most dynamic region of Vietnam.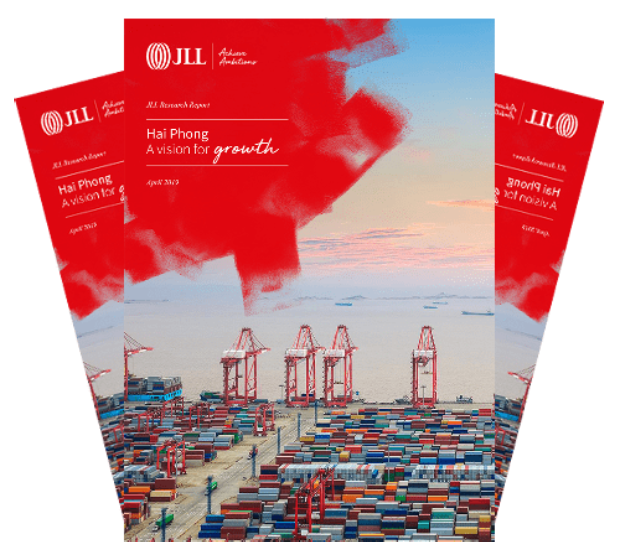 Report is available in 5 languages.