[Webinar] Eco-Industrial Park Intervention in Vietnam
12 July 2021 BY deepc
ONLINE INTRODUCTION WORKSHOP
OF THE PROJECT "ECO-INDUSTRIAL PARK INTERVENTION IN VIETNAM -
PERSPECTIVE FROM GLOBAL ECO-INDUSTRIAL PARKS PROGRAMME"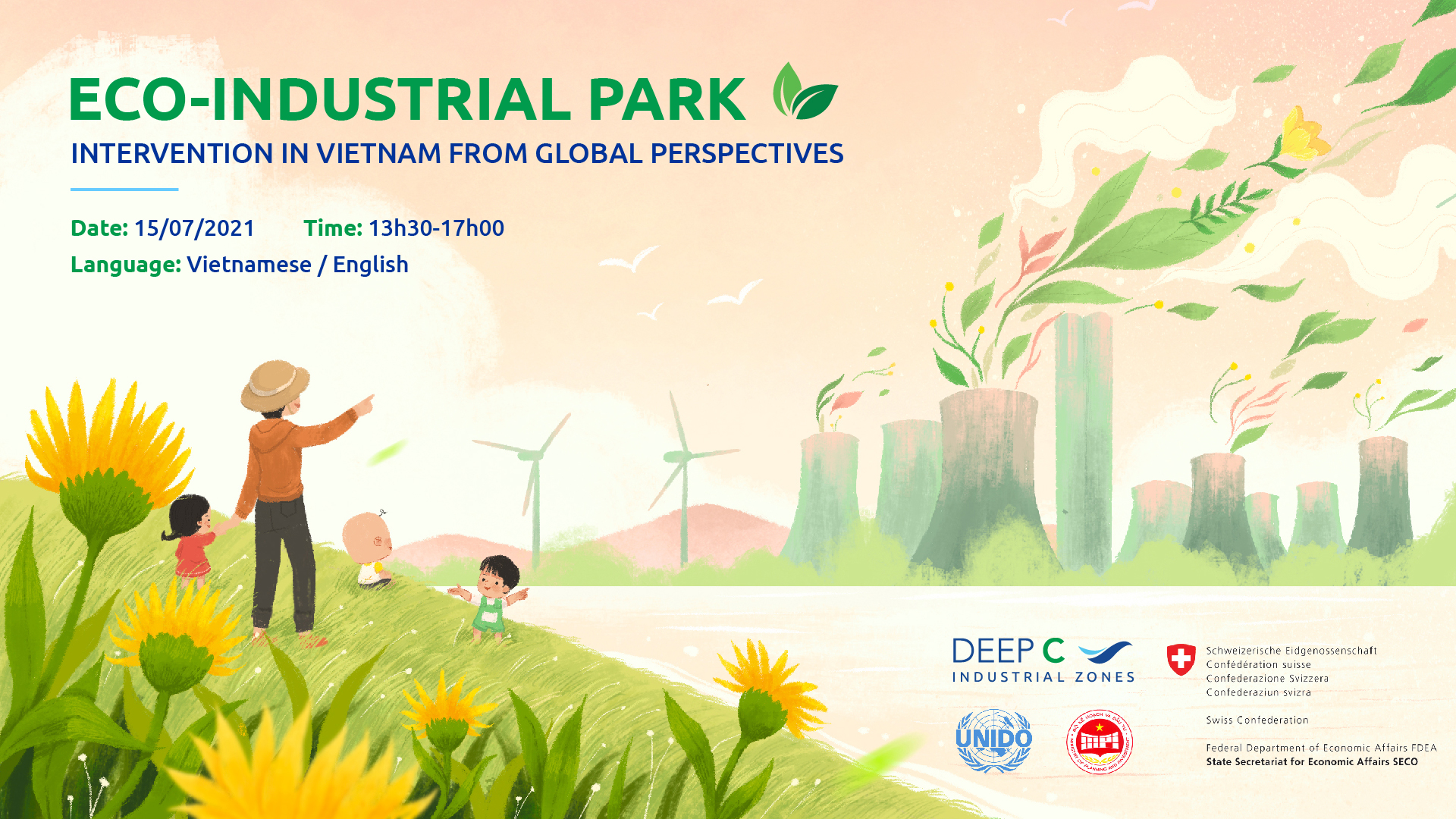 The project "Eco-industrial Park Intervention in Viet Nam - Perspective from Global Eco-industrial Parks Programme (GEIPP)", funded by SECO, is currently implemented by UNIDO in the developing and transition countries. In Vietnam, it is jointly implemented by the government coordinating agency, Ministry of Planning and Investment and UNIDO, in 2020 - 2023.
The goal of the project is to demonstrate the benefits of the Eco-industrial park approach in:
Scaling up resource productivity and improving economic, environmental and social performances of businesses
Contribute to an inclusive and sustainable industrial development in Vietnam
3 industrial parks across the country and their tenants/resident companies have been selected to join the project: DEEP C Haiphong I (Dinh Vu Industrial Zone) in Haiphong City, Amata in Dong Nai Province, Hiep Phuoc in Ho Chi Minh City.
BENEFITS OF PROJECT PARTICIPATION:
Capacity building on Resource Efficient and Cleaner Production (RECP), IndustrialSymbiosis (IS), the eco-industrial park concept at the industrial park level.
Rapid RECP assessment and guidance to identify wastes in the production process, and interventions at an expected no-or-low-cost reduction in energy, material, water and chemicals consumption.
Development of feasibility studies for selected RECP/IS interventions.
Support access to financing sources for IS interventions.
CONTACTS
Mrs. Bui Hong Phuong - Project Management Unit (Ministry of Planning and Investment)
Email: buihongphuong@gmail.com
Phone: 091.273.0123